Cetilistat cas number 282526-98-1 which is a long-acting and potent specific gastrointestinal lipase inhibitor that it plays a therapeutic role by inactivating the enzyme by covalently engaging the active serine sites in the gastric and small intestine gastric lipase and pancreatic lipase , Inactivated enzymes can not hydrolyze the fat in the food mainly triglycerides into absorbable free fatty acids and monoacylglycerols. Undigested triglycerides can not be absorbed by the body, thereby reducing calorie intake and controlling body weight. The biggest advantage of the drug is not to act on the nervous system, does not affect the gastrointestinal tract of other enzyme activity, not absorbed that is not into the blood, do not suppress appetite, without limiting the diet. after treatment within 24 hours ,it can appear defecation with oil phenomenon, mainly for the flush toilet within a lot of oil droplets floating, these oil droplets that are not digested fat. The action mechanism of Cetilistat cas number 282526-98-1 was similar to Orlistat, but compared with the latter, its adverse reactions were much less, such as excretion of incontinence and flatulence. Cetilistat cas 282526-98-1 has better safety and tolerance.
Thera. Category:Treat Obesity
Cas No.: 359-13-7
Synonym: cetilistat;Cetilistat(Alt-962);Cetilstat;2-(Hexadecyloxy)-6-methyl-4H-3,1-benzoxazin-4-one;2-(Hexadecycloxy)-6-methyl-4H-3,1-benzoxazin-4-one;4H-3,1-Benzoxazin-4-one,2-(hexadecyloxy)-6-Methyl-;Xinli orlistat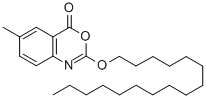 Molecular Weight: 401.58
Molecular formula: C25H39NO3
Assay: ≥98.%
Appearance: White Crystalline solid
Packing:Export worthy packing
Material Safety Data Sheet:Available on request
Usage:
Cetilistat is a drug designed to treat obesity. It acts in the same way as the older drug orlistat (Xenical) by inhibiting pancreatic lipase, an enzyme that breaks down triglycerides in the intestine. Without this enzyme, triglycerides from the diet are prevented from being hydrolyzed into absorbable free fatty acids and are excreted undigested
Cetilistat intermedates:
2,2-Difluoroethanol CAS 359-13-7
4-Fluoro-2-Methoxyaniline CAS 450-91-9
3-Pyridinecarboxylic acid, 6-amino- CAS 3167-49-5
5-Bromo-1,3-Dichloro-2-Fluorobenzene CAS 17318-08-0
Methyl 6-Aminonicotinate(Cetilistat Intermediate) CAS 36052-24-1
4-Fluoro-3-Nitroanisole (Cetilistat, Alt-962 Intermediate) CAS 61324-93-4
2-(Hexadecyloxy)-6-methyl-4H-3,1-benzoxazin-4-one CAS 282526-98-1
Looking for ideal 282526-98-1 Manufacturer & supplier ? We have a wide selection at great prices to help you get creative. All the CAS 282526-98-1 are quality guaranteed. We are China Origin Factory of CAS NO 282526-98-1. If you have any question, please feel free to contact us.
Product Categories : Active Pharmaceutical Ingredients