As we all known, Cetilistat (Alt-962) CAS 282526-98-1 is a novel lipase inhibitor for the treatment of obesity in both diabetic and non-diabetic patients. Cetilistat 282526-98-1 acts by inhibiting pancreatic lipase, an enzyme that breaks down triglycerides in the intestine. We can offer Alt-962 CAS NO 282526-98-1 range from gram grade to kilogram grade. Cetilistat is designed to treat obesity, customers can take use of this properties according to their needs.
Cetilistat cas number 282526-98-1 which is a very safe new weight loss drugs. Its synthesis methods are mainly the following: Firstly,Take the reaction of 2-amino-5-methylbenzoic acid with cetyl chloroformate, achieves the purpose of aminoacylation, carboxylation and cyclization in one step. Although the process seems simple, it requires a substantial excess of chlorine Formic acid hexadecyl ester to complete these conversions, and the yield is very low only 20%.Secondly, with p-methyl phenyl isocyanate as the starting material and react with cetyl alcohol to get hexadecyl p-tolyl carbamate, and then process benzene ring bromide reaction with bromine, under the catalyzed of Trans-Dichlorobis(triphenyl-phosphine)Palladium, adding carbon monoxide, water and halogenated aromatic ring condensation into the carboxyl group, and then under the action of ethyl chloroformate ring to get the Cetilistat cas number 282526-98-1 . The palladium catalyst used in this method is expensive, and there are existing several disadvantages of many waste discharge, harsh reaction conditions , and high required on the equipment. Thirdly, with pyridine as solvent and acid, react with 2-amino-5-methyl benzoic acid and slightly excess of cetyl chloroformate, and then adding phosphorus oxychloride for intramolecular ring to get Cetilistat cas 282526-98-1, the method compare to before two methods,the yields is the highest, reaching to 90%, but it has shortcoming that there are a lot of use of strong irritant reagents pyridin. Some people adjusted the methods, the two starting materials are unchanged,then process amino acid acylation, purify the intermediate and then cyclization, through the two-step reaction to the target compound, this method can significantly reduce the use amount of pyridine, the yield can reach more than 90%.

Thera. Category
:
Treat Obesity
Cas No.: 359-13-7
Synonym: cetilistat;Cetilistat(Alt-962);Cetilstat;2-(Hexadecyloxy)-6-methyl-4H-3,1-benzoxazin-4-one;2-(Hexadecycloxy)-6-methyl-4H-3,1-benzoxazin-4-one;4H-3,1-Benzoxazin-4-one,2-(hexadecyloxy)-6-Methyl-;Xinli orlistat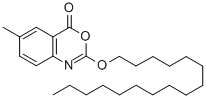 Molecular Weight: 401.58
Molecular formula: C25H39NO3
Assay: ≥98.%
Appearance: White Crystalline solid
Packing:Export worthy packing
Material Safety Data Sheet:Available on request
Usage:
Cetilistat is a drug designed to treat obesity. It acts in the same way as the older drug orlistat (Xenical) by inhibiting pancreatic lipase, an enzyme that breaks down triglycerides in the intestine. Without this enzyme, triglycerides from the diet are prevented from being hydrolyzed into absorbable free fatty acids and are excreted undigested
Cetilistat intermedates:
2,2-Difluoroethanol CAS 359-13-7
4-Fluoro-2-Methoxyaniline CAS 450-91-9
3-Pyridinecarboxylic acid, 6-amino- CAS 3167-49-5
5-Bromo-1,3-Dichloro-2-Fluorobenzene CAS 17318-08-0
Methyl 6-Aminonicotinate(Cetilistat Intermediate) CAS 36052-24-1
4-Fluoro-3-Nitroanisole (Cetilistat, Alt-962 Intermediate) CAS 61324-93-4
2-(Hexadecyloxy)-6-methyl-4H-3,1-benzoxazin-4-one CAS 282526-98-1
Looking for ideal For Loss Weight Cetilistat Alt-962 CAS 282526-98-1 Manufacturer & supplier ? We have a wide selection at great prices to help you get creative. All the Cetilistat Alt-962 Oral Lipase Inhibitor CAS 282526-98-1 are quality guaranteed. We are China Origin Factory of Obesity Drug Cetilistat CAS 282526-98-1. If you have any question, please feel free to contact us.
Product Categories : Active Pharmaceutical Ingredients