With the assistance of trustworthy and certified vendor base, we can offer different purity Idelalisib CAL-101(N-1) Intermediate CAS 870281-84-8. We have high productive standard. our specification is micronized and on sterile level. The Idelalisib CAL-101(N-1) Intermediate is high quality and reasonable price. We also provide best service for our customers.
Thera. Category:
Cas No.:870281-84-8
Synonyms:(S)-([1-(2-fluoro-6-nitro-benzoyl)-phenyl-aMinocarbonyl]-propyl)-carbaMic acid tert-butyl ester;(S)-tert-butyl (1-(2-fluoro-6-nitro-N-phenylbenzaMido)-1-oxobutan-2-yl)carbaMate;[(1S)-1-[[(2-Fluoro-6-nitrobenzoyl)phenylamino]carbonyl]propyl]carbamic acid 1,1-dimethylethyl ester;CAL-101(N-1);CAL101(N-1),CAL 101(N-1)
MF:C22H25FN3O6

NW:446.4488032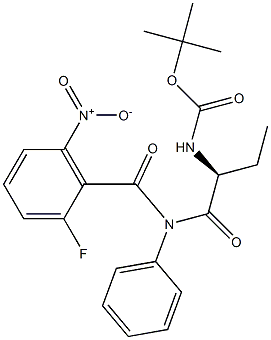 Assay: ≥99%
Packing:Export worthy packing
Material Safety Data Sheet:Available on request
CAL-101 (Idelalisib, GS-1101) is a selective p110δ inhibitor with IC50 of 2.5 nM; shown to have 40- to 300-fold greater selectivity for p110δ than p110α/β/γ, and 400- to 4000-fold more selectivity to p110δ than C2β, hVPS34, DNA-PK and mTOR.
IC50 value: 2.5 nM [1]
Target: p110δ
in vitro: CAL-101 is not sensitive to other PI3K class I subunits including p110α, p110β, and p110γ. CAL-101 specifically blocks Fc?R1 p110δ-mediated CD63 expression with an EC50 of 8 nM in primary basophil. CAL-101 exhibits greater activity in B-cell acute lymphoblastic leukemia (B-ALL) and chronic lymphocytic leukemia (CLL) cells compared with acute myeloid leukemia (AML) and myeloproliferative neoplasm (MPN) cells. CAL-101 produces the reduction in pAktS473, pAktT308, and the downstream target S6 in SU-DHL-5, KARPAS-422 and CCRF-SB cells with EC50 of 0.1 to 1.0 μM [1]. CAL-101 induces selective cytotoxicity in CLL cells independent of IgVH mutational status or interphase cytogenetics, primarily through a caspase-dependent mechanism. CAL-101 induces cytotoxicity preferentially to CLL cells compared with normal B cells, without producing cytotoxicity in other hematopoietic cells, compared to LY294002. CAL-101 lacks direct cytotoxic potential to T cells and nature killer (NK) cells. CAL-101 can inhibit production of inflammatory cytokines, such as IL-6, IL-10, TNF-α, and IFN-γ, and activation-induced cytokines, such as CD40L. CAL-101 also antagonizes CD40L-mediated CLL cell survival [2]. AL-101 induces an accumulation of cells in G1 and a decrease in the S-phase population in L1236 and L591 cells, which indicates CAL-101 as a novel strategy for the treatment of hodgkin lymphoma (HL) [3].

We are availabe for several related Intermediates
1) CAS 385-02-4,2-Fluoro-6-nitrobenzoic acid
2) CAS 870281-83-7,2-Fluoro-6-nitro-N-phenylbenzamide
3) CAS 870281-84-8,(S)-([1-(2-fluoro-6-nitro-benzoyl)-phenyl-aMinocarbonyl]-propyl)-carbaMic acid tert-butyl ester
4) CAS 870281-85-9,(S)-tert-butyl (1-(5-fluoro-4-oxo-3-phenyl-3,4-dihydroquinazolin-2-yl)propyl)carbaMate
5) CAS 870281-86-0,(S)-2-(1-aMinopropyl)-5-fluoro-3-phenylquinazolin-4(3H)-one
6) CAS 870281-82-6,CAL-101
7) CAS 767-69-1,6-Bromopurine
Looking for ideal Idelalisib 870281-84-8 Manufacturer & supplier ? We have a wide selection at great prices to help you get creative. All the CAL-101 870281-84-8 are quality guaranteed. We are China Origin Factory of Idelalisib N-1 CAS 870281-84-8. If you have any question, please feel free to contact us.
Product Categories : Contract Manufacturing