All our professionals are engaged in providing best range of idelalisib N-2 CAS 870281-85-9. Idelalisib N-2 is white powder which is play an great main role in Idelalisib (CAL-101). Idelalisib N-2 are known for its high purity and effective, and appreciated by our customers, whether in domestic or abroad. Our inventory holding dozens of kilogram so we can meet supply demand.
Thera. Category:
Cas No.:870281-85-9
Synonyms:(S)-tert-butyl (1-(5-fluoro-4-oxo-3-phenyl-3,4-dihydroquinazolin-2-yl)propyl)carbaMate;idelalisib N-2;[(1S)-1-(5-Fluoro-3,4-dihydro-4-oxo-3-phenyl-2-quinazolinyl)propyl]carbamic acid 1,1-dimethylethyl ester;CAL-101(N-2);CAL101(N-2);CAL 101(N-2)
MF:C22H24FN3O3

NW:397.4426632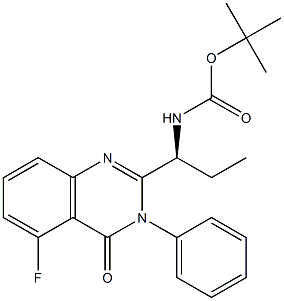 Assay: ≥99%
Packing:Export worthy packing
Material Safety Data Sheet:Available on request
CAL-101 (Idelalisib, GS-1101) is a selective p110δ inhibitor with IC50 of 2.5 nM; shown to have 40- to 300-fold greater selectivity for p110δ than p110α/β/γ, and 400- to 4000-fold more selectivity to p110δ than C2β, hVPS34, DNA-PK and mTOR.
IC50 value: 2.5 nM [1]
Target: p110δ
in vitro: CAL-101 is not sensitive to other PI3K class I subunits including p110α, p110β, and p110γ. CAL-101 specifically blocks Fc?R1 p110δ-mediated CD63 expression with an EC50 of 8 nM in primary basophil. CAL-101 exhibits greater activity in B-cell acute lymphoblastic leukemia (B-ALL) and chronic lymphocytic leukemia (CLL) cells compared with acute myeloid leukemia (AML) and myeloproliferative neoplasm (MPN) cells. CAL-101 produces the reduction in pAktS473, pAktT308, and the downstream target S6 in SU-DHL-5, KARPAS-422 and CCRF-SB cells with EC50 of 0.1 to 1.0 μM [1]. CAL-101 induces selective cytotoxicity in CLL cells independent of IgVH mutational status or interphase cytogenetics, primarily through a caspase-dependent mechanism. CAL-101 induces cytotoxicity preferentially to CLL cells compared with normal B cells, without producing cytotoxicity in other hematopoietic cells, compared to LY294002. CAL-101 lacks direct cytotoxic potential to T cells and nature killer (NK) cells. CAL-101 can inhibit production of inflammatory cytokines, such as IL-6, IL-10, TNF-α, and IFN-γ, and activation-induced cytokines, such as CD40L. CAL-101 also antagonizes CD40L-mediated CLL cell survival [2]. AL-101 induces an accumulation of cells in G1 and a decrease in the S-phase population in L1236 and L591 cells, which indicates CAL-101 as a novel strategy for the treatment of hodgkin lymphoma (HL) [3].


We are availabe for several related Intermediates
1) CAS 385-02-4,2-Fluoro-6-nitrobenzoic acid
2) CAS 870281-83-7,2-Fluoro-6-nitro-N-phenylbenzamide
3) CAS 870281-84-8,(S)-([1-(2-fluoro-6-nitro-benzoyl)-phenyl-aMinocarbonyl]-propyl)-carbaMic acid tert-butyl ester
4) CAS 870281-85-9,(S)-tert-butyl (1-(5-fluoro-4-oxo-3-phenyl-3,4-dihydroquinazolin-2-yl)propyl)carbaMate
5) CAS 870281-86-0,(S)-2-(1-aMinopropyl)-5-fluoro-3-phenylquinazolin-4(3H)-one
6) CAS 870281-82-6,CAL-101
7) CAS 767-69-1,6-Bromopurine
8) N,N'-Bis-(2-Chloroethyl)urea CAS 2214-72-4
Looking for ideal IDELALISIB 870281-85-9 Manufacturer & supplier ? We have a wide selection at great prices to help you get creative. All the IDELALISIB CAS 870281-85-9 are quality guaranteed. We are China Origin Factory of IDELALISIB Intermediate N-2. If you have any question, please feel free to contact us.
Product Categories : Contract Manufacturing