Ixazomib cas number is 1072833-77-2,also named MLN 2238,which is a nitrogen-capped dipeptide leucine boronic acid that inhibits the chymotrypsin (β5) hydrolysis site of the 20S proteasome, with an IC50 of 3.4 nM and a Ki value of 0.93 nM. At higher concentrations, MLN2238 also inhibited the caspase-like hydrolysis (β1) site and the trypsin-like hydrolysis (β2) site of the 20S proteasome with IC50 of 31 nM and 3.5 μM, respectively. MLN2238 Cas 1072833-77-2 is a potent and selective reversible inhibitor of the proteasome, and this reversibility is time dependent. MLN2238 inhibited Calu-6 cells with an IC50 of 9.7 nM. MLN2238 acts on tumor cells and is an effective selective reversible inhibitor of the proteasome. Both MLN2238 and Bortezomib are reversible inhibitors of the proteasome, which are time-dependent, but the separation half-life of MLN2238 on the proteasome is six times faster than that of Bortezomib (18 and 110 minutes, respectively). MLN2238 was isolated from the proteasome faster than Bortezomib and consistent with faster recovery of proteasome activity in the Proteasome-Glo assay. MLN2238 has a higher tumor efficacy than Bortezomib. MLN2238 is a biologically active form of MLN9708.
Thera. Category: Anti-cancer
Cas No.: 1072833-77-2
Synonym:(R)-1-(2-(2,5-dichlorobenzamido)acetamido)-3-methylbutylboronic acid;MLN2238;IxazoMib;B-[(1R)-1-[[2-[(2,5-dichlorobenzoyl)amino]acetyl]amino]-3-methylbutyl]boronic acid;ixazomib(MLN2238);1072833-77-2;B-[(1R)-1-[[2-[(2,5-dichlorobenzoyl)amino]acetyl]amino]-3-methylbutyl]boronic acid Ixazomib (MLN2238);MLN2238(iaxzomib)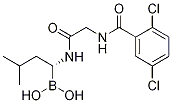 Molecular Formula: C14H19BCl2N2O4
Molecular Weight: 361
Assay: ≥99.%
Packing: Export worthy packing
lMaterial Safety Data Sheet: Available on request
Usage:
MLN9708 CAS 1201902-80-8 is a selective, potent, and reversible proteasome inhibitor.
1) Ixazomib 1201902-80-8
2) Ixazomib Citrate (MLN9708) CAS 1239908-20-3
3) Ixazomib(MLN-2238; MLN 2238; MLN2238) CAS 1072833-77-2
Looking for ideal Proteasome Inhibitor Ixazomib CAS 1072833-77-2 Manufacturer & supplier ? We have a wide selection at great prices to help you get creative. All the MLN-2238 MLN2238 CAS 1072833-77-2 are quality guaranteed. We are China Origin Factory of HNMR DATE OF Ixazomib 1072833-77-2. If you have any question, please feel free to contact us.
Product Categories : Contract Manufacturing