A key step in the synthesis of Arbidol Hydrochloride Cas number 131707-23-8 is the construction of an anthracene ring, which is generally a ring-forming reaction by Nenitzescu, a condensation ring of p-benzoquinone with 3-hydrocarbylamino-2-butenoate. On this basis, through the acylation reaction, bromination reaction, deprotection reaction, nucleophilic substitution with thiophenol, Mannich amination, salt formation seven-step reaction, finally obtained arbidol hydrochloride Cas number 131707-23-8. Most of the other routes have undergone a certain degree of change on this basis.
In another method, 3-iodo-4-nitrophenol is used as a raw material, which is protected by a hydroxyl group, and is substituted with ethyl acetoacetate under a base to synthesize an anthracene ring, methylation, and bromine by a reduction-condensation reaction. , thiophenolation, Mannich amine methylation, hydrochloric acid acidification, refined to obtain abidol hydrochloride. The method has the advantages of long steps and complicated processing, and the starting material 3-iodo-4-nitrophenol has a high price and does not have an advantage in the market competitiveness.

Arbidol Hydrochloride cas number131707-23-8 is a double-acting anti-influenza virus drug that is used in its monohydrate,suitablefor adults and children with influenza A, influenza B, acute viral respiratory infections, severe acute respiratory disease syndrome As well as the prevention and treatment of concurrent bronchitis and pneumonia. At present, the clinical use of anti-influenza virus drugs only ribavirin, amantadine and rimantadine. Among them, although ribavirin in large doses has active both on influenza and influenza B viruses are active, while it has teratogenic allergic of nucleoside drugs which can cause anemia and immunosuppression. Amantadine and rimantadine are only effective against influenza A and are susceptible to central nervous system toxicity, thereby reducing clinical use. Compared with other antiviral drugs, Arbidol hydrochloride cas 131707-23-8 has the following several major characteristics: 1, induced interferon, significantly improve their immunity. Taking during Influenza epidemic can be effective in preventing influenza. 2, while killing A, B influenza virus, prevent the virus fusion and replication, significantly reduce the flu symptoms, shorten the course of influenza, prevent the occurrence and development of influenza late syndrome. 3, oral convenience, high security, good compliance.
Thera. Category:Anti-HIV
Cas No.:131707-23-8
Synonyms:1H-INDOLE-3-CARBOXYLIC ACID, 6-BROMO-4-[(DIMETHYLAMINO)METHYL]-5-HYDROXY-1-METHYL-2-[(PHENYLTHIO)METHYL]-, ETHYL ESTER, MONOHYDROCHLORIDE;6-bromo-4-[(dimethylamino)methyl]-5-hydroxy-1-methyl-2-[(phenylthio)methyl]-1h-indole-3-carboxylic acid ethyl ester monohydrochloride;ARBIDOL HCL;ARBIDOL HYDROCHLORIDE;Arbidol hydrochloride hydrate;ARBIDOLHYDROCHLORIDE(FORR&DONLY);6-Bromo-4-[(dimethylamino)methyl]-5-hydroxy-1-methyl-2-[(phenylthio)methyl]-1H-indole-3-carboxylic acid ethyl ester monohydrochloride;HYDROCHLORIDEOFETHYL6-BROMO-4-((DIMETHYLAMINO)METHYL)-5.
MF:C22H26BrClN2O3S

NW:513.88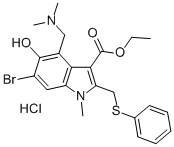 Assay: ≥99%
Packing:Export worthy packing
Material Safety Data Sheet:Available on request
Usage: Arbidol
We are availabe for several Intermediates of Arbidol
1)Mecarbinate CAS 15574-49-9
2)Arbidol hydrochloride CAS 131707-23-8
3)Ethyl 6-bromo-5-hydroxy-1-methyl-2-(phenylsulfanylmethyl)indole-3-carboxylate CAS 131707-24-9
Looking for ideal 131707-23-8 Manufacturer & supplier ? We have a wide selection at great prices to help you get creative. All the Quality Arbidol Hydrochloride CAS 131707-23-8 are quality guaranteed. We are China Origin Factory of Buy Cheap Arbidol HCL CAS Number 131707-23-8. If you have any question, please feel free to contact us.