CAS 361442-00-4 is key intermediate of Saxagliptin ,it is the most important intermediate of saxagliptin in a synthetic drug,it is also the most difficult technical intermediates, Its quality will directly affect the final product. It can be said that the success of the production of intermediates, related to the success or failure of saxagliptin. We can do this saxagliptin intermediate CAS 361442-00-4 purity NLT 99 %, and one batch production scale NLT 100KG, For the order demand of tens of kilograms, we can complete the production within 25 days. It is prepared as our regular stock to supply the needs of grams to kilograms scale on time.
Thera. Category: Anti-diabetic drug
Cas No.: 361442-00-4
Synonym: (alphaS)-alpha-[[(1,1-Dimethylethoxy)carbonyl]amino]-3-hydroxytricyclo[3.3.1.13,7]decane-1-acetic acid;Boc-3-Hydroxy-1-adamantyl-D-glycine;(S)- N- Boc- 3- hydroxyadamantylglycine;Boc-3-Hydroxy-1-adamantyl;Saxagliptin Intermediate 3;Saxagliptin II;Tricyclo[3.3.1.13,7]decane-1-a acid, .alpha.-[[(1,1-diMethyleth no]-3-hydroxy-, (.alpha.S)-;Boc-3-Hydroxy-1-adaMantyl-D-glycin
Molecular Formula: C17H27NO5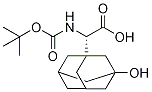 Molecular Weight: 325.39998
Assay: ≥98.%
Packing: Export worthy packing
Material Safety Data Sheet: Available on request
1) L- cis- 4,5- methanoprolinamide HCl CAS 700376-57-4
2) Saxagliptin CAS NO 361442-04-8
3) Boc-3-Hydroxy-1-adamantyl-D-glycine CAS 361442-00-4
4) 1S,3S,5S)-tert-Butyl 3-carbamoyl-2-azabicyclo[3.1.0]hexane-2-carboxylate 361440-67-7
5) (alphaS)-alpha-[[(1R)-2-Hydroxy-1-phenylethyl]aMino]-tricyclo[3.3.1.1(3,7)]decane-1-acetic acid hydrochloride 361441-96-5
Looking for ideal White Powder Saxagliptin Intermediate CAS 361442-00-4 Manufacturer & supplier ? We have a wide selection at great prices to help you get creative. All the Saxagliptin Intermediate CAS 361442-00-4 are quality guaranteed. We are China Origin Factory of Saxagliptin Intermediate CAS NO 361442-00-4. If you have any question, please feel free to contact us.