Nicergoline Cas number is 27848-84-6, it is used for acute or chronic cerebrovascular disorders or cerebral metabolic dysfunction. It also can treat chronic cerebral insufficiency caused by mobility problems, language disorders, tinnitus, dizziness, vision disorders, dizziness, headache, insomnia, memory loss, inability to concentrate, mental depression, anxiety, agitation and senile dementia. Nicergoline can enhance the role of antihypertensive drugs. The main adverse reactions are mild gastrointestinal discomfort, flushing, drowsiness, insomnia. A high dose of nicergoline may cause a temporary decrease in blood pressure. Generally do not need treatment, supine rest for a few minutes. Rare cases of cerebral and cardiac insufficiency, it is recommended in continuous blood pressure monitoring, given sympathomimetic drugs.
Thera. Category: Treat senile dementia and other disorders with vascular origins
Cas No.:27848-84-6
Synonyms: +)-10-methoxy-1,6-dimethylergoline-8-beta-methanol5-bromonicotinate;10-methoxy-1,6-dimethyl-ergolin-8-beta-methanol-(5-bromnicotinat);10-methoxy-1,6-dimethyl-ergoline-8-beta-methano5-bromo-3-pyridinecarboxy;10-methoxy-1,6-dimethyl-ergoline-8-beta-methano5-bromonicotinate(ester);10-methoxy-1,6-dimethylergoline-8-methanol5-bromo-3-pyrindinecarboxylate(es;1-methyl-lumilysergol8-(5-bromonicotinate)10-methylether;8-beta-((5-bromonicotinoyloxy)methyl)-1,6-dimethyl-10-alpha-methoxyergoline;fi6714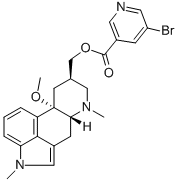 Molecular Formula:C24H26BrN3O3
Molecular Weight: 484.39
Purity: ≥99%
Packing: Export worthy packing
Material Safety Data Sheet: Available on request
Usage: Pharmaceutical Intermediate
Looking for ideal 27848-84-6 Manufacturer & supplier ? We have a wide selection at great prices to help you get creative. All the MDL Number MFCD00869626 of 27848-84-6 are quality guaranteed. We are China Origin Factory of HNMR of 27848-84-6. If you have any question, please feel free to contact us.
Product Categories : Active Pharmaceutical Ingredients