Dantrolene Sodium CAS number is 24868-20-0. Listed in multiple countries after 1974. He is a muscle relaxant that acts directly on skeletal muscles. Its unique mechanism is directly applied to skeletal muscles. It inhibits muscle contraction by inhibiting sarcoplasmic reticulum release of calcium ions, thereby improving the patient's motor skills, increasing the range of active and passive joint activities, and alleviating the symptoms associated with exercise difficulties. Promote functional recovery. It is used for the increased state of spastic muscle tone left by the upper motor neuron damage caused by various reasons, such as stroke, traumatic brain injury, spinal cord injury, cerebral palsy, and multiple cerebral arteriosclerosis. Can also be used for various causes of malignant hyperthermia, emergency treatment and prevention of malignant syndrome. Studies have shown that the efficacy of dantrolene in the treatment of cerebral palsy-induced muscle cramps is 96.77%. Among them, the total effective rate of reducing muscle tension was 87.10%, the total effective rate of reducing tendon reflex was 61.29%, and the total effective rate of reducing myoclonus was 83.8%. In addition, dantrolene sodium can also be used for skeletal muscle tonic contraction caused by other non-injury factors, such as malignant hyperthermia and malignant syndrome.
Dantrolene Sodium CAS number 24868-20-0 is poor in water solubility, difficult to absorb, and low in bioavailability, and is a limiting factor in its application. On the molecular level, linoleic acid is a long-chain unsaturated alkanol organic acid that can overcome the blood-brain barrier through the transmembrane movement and accumulate in the central nervous system. Dantrolene sodium, an internationally recognized neurotherapeutic drug, is a small-molecule drug that enters the nervous system mainly through the action of osmotic diffusion. Its permeability depends on the difference in intracellular and extracellular concentrations, so its efficacy is relatively low. The introduction of linoleic acid can improve the way that sodium narcollin enters the nervous system, thereby improving the efficacy. Through organic combination, the two classic drugs not only have the efficacy of linoleic acid, but also increase the utilization rate of Dantrolena sodium, achieve the purpose of new use of old drugs, and provide benefits for thousands of patients in the world.

Thera. Category: Muscle Relaxant
Cas No.: 24868-20-0
Synonym:SODIUM DANTROLENE;Dantrium,1-[[[5-(4-Nitrophenyl)-2-furanyl]methylene]amino]-2,4-imidazolidinedione;Dantrolene sodium hemiheptahydrate;1-[[[5-(4-NITROPHENYL)-2-FURANYL]METHYLENE]AMINO]-2,4-IMIDAZOLINEDIONE SODIUM SALT;1-[[[5-(4-NITROPHENYL)-2-FURANYL]-METHYLENE]IMINO]2,4-IMIDAZOLIDINEDIONE SODIUM SALT;DANTRIUM;DANTROLENE NA;DANTROLENE SODIUM;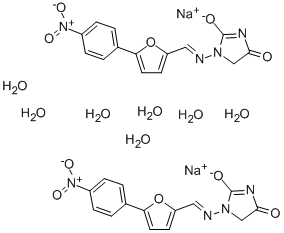 Molecular Weight: 336.23
Molecular formulate: C14H9N4NaO5
Assay: ≥98.%
Appearance: White Crystalline solid
Packing:Export worthy packing
Material Safety Data Sheet:Available on request
Looking for ideal Dantrolene Sodium Hemiheptahydrate 24868-20-0 Manufacturer & supplier ? We have a wide selection at great prices to help you get creative. All the CAS 24868-20-0 are quality guaranteed. We are China Origin Factory of CAS Number 24868-20-0. If you have any question, please feel free to contact us.
Product Categories : Contract Manufacturing