Arbidol Hydrochloride Cas number 131707-23-8 has interferon-inducing and immunomodulatory effects, and its broad spectrum of disease resistance and small side effects have attracted the attention of scholars from various countries. Since the development of arbidol hydrochloride, The study of arbidol hydrochloride and its derivatives has never stopped. The former Soviet chemists synthesized various types of arbidol derivatives in the 1980s and analyzed their anti-influenza activity, which laid the foundation for the study of the structure-activity relationship of these compounds.
Due to the extreme variability of influenza virus, it is very important to develop new antibiotics with better drug resistance, wider applicability and less toxicity. Studies on the series of arbidol hydrochloride Cas number 131707-23-8 compounds began in the 1980s, including the 1-6 modification, in which the modification of the Arbidol 2 position, including the introduction of different substituents on the benzene ring or with N , O replaces S. Studies have shown that when an electron donating group is attached to the benzene ring, its antiviral activity is enhanced; when an electron withdrawing group is attached, the activity is decreased; when it is monosubstituted by a fluorine atom, the cytotoxicity is lowered, but with the fluorine atom The number of the compounds increases, and the toxicity of the compound to cells increases; and the nitrogen-containing aliphatic ring replaces the phenylthio group, and the antiviral selectivity of the compound is lowered. We have noticed that in the structural modification of arbidol hydrochloride, although the 2-position substituent has been extensively studied, it is limited to the substitution of a substituent on a benzene ring or the substitution of a benzene ring by a heterocyclic ring, and for carbon. The length of the chain has not been studied.

Arbidol hydrochloride cas number 131707-23-8 has a carboxylate structure, so it may be a carrier prodrug. The mechanism of action of arbidol hydrochloride is through the activation of 2,5-oligoadenylate synthetase, specifically to prevent contact, adhesion and fusion of influenza virus capsule and host cell cell membrane, thus blocking the replication of influenza virus, and Can penetrate into the nucleus directly inhibit the synthesis of viral RNA and DNA; on the other hand, it has immune regulation, interference induced and antioxidant properties, induced host cells to produce interferon, and stimulate the body fluid reaction and macrophage phagocytosis, causing Cellular immunity and humoral immunity, suggesting that its antiviral effect is closely related to the improvement of immune function. Modern medical studies have shown that the acidic environment (pH 5.0) is a necessary condition for influenza virus-mediated fusion, and a small increase in pH will prevent the fusion process. Water-soluble arbidol is a weakly alkaline drug that enhances the pH of the endosomes in the host cell and prevents the virus from completing the process of membrane fusion to release the viral genome and is effective in inhibiting HCV Of acute and chronic infections. The low side effects of albidol hydrochloride cas 131707-23-8 are small and do not produce drug resistance. In Russia, Ukraine and other countries have more than 20 years of clinical experience, the Russian National Pharmacopoeia Commission recommended Arbidol HCL cas number 131707-23-8 to adults and children as influenza A and B Influenza virus treatment and preventive medicine
Thera. Category:Anti-HIV
Cas No.:131707-23-8
Synonyms:1H-INDOLE-3-CARBOXYLIC ACID, 6-BROMO-4-[(DIMETHYLAMINO)METHYL]-5-HYDROXY-1-METHYL-2-[(PHENYLTHIO)METHYL]-, ETHYL ESTER, MONOHYDROCHLORIDE;6-bromo-4-[(dimethylamino)methyl]-5-hydroxy-1-methyl-2-[(phenylthio)methyl]-1h-indole-3-carboxylic acid ethyl ester monohydrochloride;ARBIDOL HCL;ARBIDOL HYDROCHLORIDE;Arbidol hydrochloride hydrate;ARBIDOLHYDROCHLORIDE(FORR&DONLY);6-Bromo-4-[(dimethylamino)methyl]-5-hydroxy-1-methyl-2-[(phenylthio)methyl]-1H-indole-3-carboxylic acid ethyl ester monohydrochloride;HYDROCHLORIDEOFETHYL6-BROMO-4-((DIMETHYLAMINO)METHYL)-5.
MF:C22H26BrClN2O3S

NW:513.88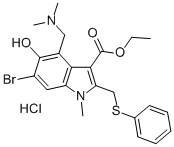 Assay: ≥99%
Packing:Export worthy packing
Material Safety Data Sheet:Available on request
Usage: Arbidol
We are availabe for several Intermediates of Arbidol
1)Mecarbinate CAS 15574-49-9
2)Arbidol hydrochloride CAS 131707-23-8
3)Ethyl 6-bromo-5-hydroxy-1-methyl-2-(phenylsulfanylmethyl)indole-3-carboxylate CAS 131707-24-9
Looking for ideal CAS 131707-23-8 Manufacturer & supplier ? We have a wide selection at great prices to help you get creative. All the Broad-Spectrum Antiviral Arbidol Hydrochloride 131707-23-8 are quality guaranteed. We are China Origin Factory of Membrane Fusion Inhibition Arbidol 131707-23-8. If you have any question, please feel free to contact us.